Activities that have taken place in the prior MS4 permit year:
Nitrate Plant Education Riparian and Walking Path planting took place in 2017.  There have been 44 saplings of different species of trees and bushes planted at the East Petersburg Nitrate Plant, which is an old conventional water treatment plant that was decommissioned and turned into a denitrification plant.  Through the development of the farm land around East Petersburg, nitrates in the drinking water became less and less of an issue.  Through vigorous testing East Petersburg Borough was able to prove to the Department of Environmental Protection that nitrate concentration levels have been reduced enough to no longer require the denitrification process to comply with state and federal guidelines for safe drinking water.  Since the building is no longer a part of the water treatment process, East Petersburg Borough and the Lancaster County Water Shed Alliance (LCWSA) partnered with Land Studies to design and develop a plan for the planting of a riparian buffer and educational walking trail.  The Nitrate Plant and lot it sits on is the size of a typical house and property lot. The Nitrate plant is the perfect place to set up and educate the public on Best Management Practices (BMP's) that can be put into practice on their own properties to help reduce East Petersburg's impact on our local watershed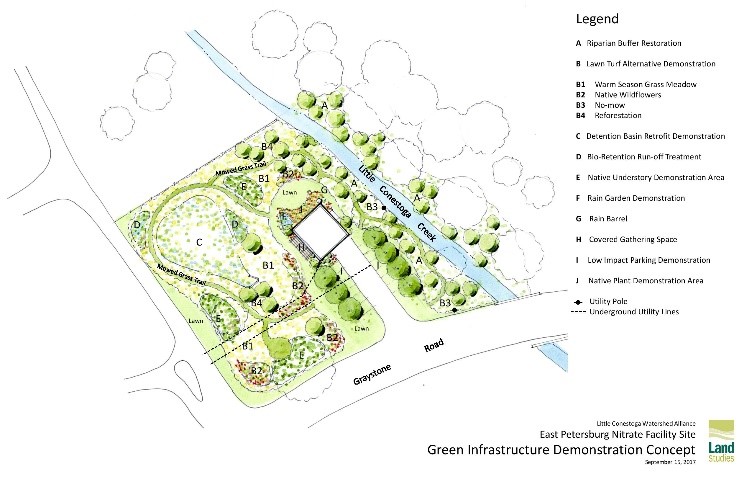 Throughout 2017 approximately 68 storm water inlets were repaired around East Petersburg Borough.  The Borough started looking into the condition of its stormwater infrastructure at the end of 2016.  It became obvious that repairs were needed from years of neglect and lack of maintenance.  The Borough has put a repair program into place that tentatively should have all Borough inlets repaired by the end of 2021.
In 2017 all stormwater inlets were cleaned out two times. The Borough cleans out all Borough owned stormwater inlets two times a year. The first cleaning happens in mid-spring after most residents have started cleaning up their properties from the winter months. The second cleaning takes place at the end of the fall when most of the leaves have dropped off the trees.  East Petersburg cleans the inlets at these times of the year because spring yard maintenance and leaf removal tend to generate the most amount of debris that ends up entering the Borough's stormwater conveyance system.  In the past the Borough used shovels and a pick up truck to clean out stormwater inlets, which took up to 2 hours. With the purchase of the new street sweeper, the amount of time to clean the stormwater inlets will be greatly reduced.
.